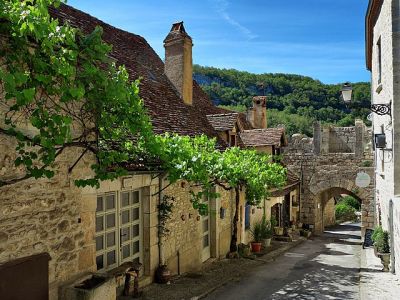 Rocamadour
A medieval village classified by Unesco, Rocamadour and its riches are unmissable on the Chemin Saint Jacques de Compostelle pilgrimage trail… Clinging to the side of a cliff, the city of Rocamadour is revealed little by little on its different levels. And at each step you'll make enchanting discoveries.
Dominating the Alzou canyon, the Lilliputian village extends over 120 meters in height, via alleys that seem to have been built on the rock. Start by climbing the 233 steps of the monumental staircase that take you through many charming little alleys. At the top, it is the ramparts of the castle that offer a breathtaking view of the Alzou canyon.
The major places of the city to visit from your hotel near Rocamadour
La Garissade hotel in Labastide-Murat is less than 30 km from the marvels of Rocamadour. Like the thousand-year-old sanctuary where pilgrims from all over the world come to meditate. Or the Stations of the Cross leading down from the castle to the sanctuary.