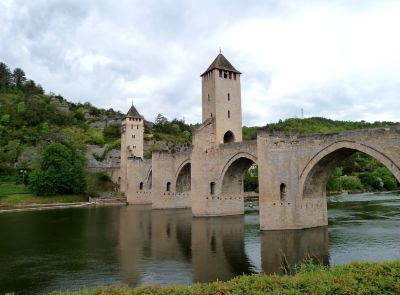 Cahors, city of art and history
Cahors is a magical place, rich in medieval heritage. Lose yourself in its little alleys filled with the charm of yesteryear. Here, the red of the brick mixes with the gray of the limestone and the ocher of the sandstone. You will be enchanted by the old half-timbered houses and intricately carved doors.
Amongst the many little squares, go in search of one of the 26 secret gardens, in flower from spring. Historical monuments are also very numerous. The Pont Valentré, a UNESCO World Heritage Site, is impressive with its three fortified towers. The Saint Etienne cathedral and its cloister, has the same majestic character, a pure wonder of Gothic art.
Your hotel in Cahors and surroundings for a historical and gourmet walk
If you want to see the city as a whole, take a short hike on Mont Saint-Cyr where you will enjoy a breathtaking panorama. Gourmets will also be delighted with the multiple stalls of the Cahors Market which is held all year round, Wednesday and Saturday morning at the gates of Saint-Etienne Cathedral. Without forgetting the inevitable Cahors wines, to be tasted in moderation.
Your Logis Hôtel La Garissade in Labastide-Murat is located near Cahors, around 30 km away.